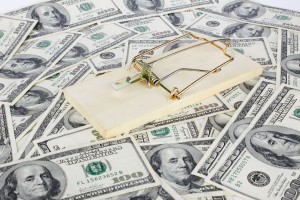 With mortgage rates maintaining historically low levels and the recent announcement of the extension of the HARP refinance program until 2015, many homeowners who have been on the fence about refinancing, may be taking a second look at their options.
Now is a great time to refinance and if you currently have a rate in the 4%-5% range or even higher, you can potentially save thousands of dollars over the life of your home loan by taking the steps needed to refinance into a new lower interest rate. By avoiding these 3 costly errors before you make the decision to refinance, you will be sure to get the most competitive rate.
Not Exploring Your Options:
When you go to make an important purchase like buying a car, you don't just settle on the first one you see do you? Shopping around and comparing rates and fees between lenders can be a huge financial win for you. Yes, of course we want you to consider us, but we also want you to be confident that you are getting a competitive rate and have chosen the right lender to work with. Don't be afraid to shop around and get multiple quotes before committing to one that will save you the most money on your interest and your closing costs.
Not Considering Adjustable Rate Loans and Shorter Term Mortgages
There are a lot of creative mortgage solutions on the market today. Be wary of the ones that are overly creative, but looking at a shorter term loan, like a 15-year fixed or considering an adjustable rate mortgage can reduce your interest rates. 15-year rates are lower than their 30-year counterparts and adjustable rate mortgages often open with a lower introductory rate for the first 5, 7, or even ten years of the loan.
Not Knowing the Value of Your Home
PMI, or private mortgage insurance, can add considerable cost to your monthly mortgage. Depending on your creditworthiness, the amount of equity you have, and what is owed on the home, you can be looking at anywhere between $50-$200 a month in mortgage insurance payments. A 20%-22% debt-to-equity ratio is the magic number when it comes to removing the mortgage insurance burden from your loan for most mortgage lenders. However, there are programs on the market today that will allow you to drop that burdensome monthly private mortgage insurance payment. Be sure to discuss your options with your lender and find out if you qualify for the ability to drop your PMI at this point.
If you are looking at refinancing and want to know more about the programs we offer or have questions about the refinancing process, simply fill out our Fast Response form or give us a call at 888-644-1999.  Our experienced mortgage professionals would love to sit down and discuss your needs. We look forward to hearing from you!
Tags: 2013 Housing Trends, first option lending, first option mortgage, HARP, refinance, refinancing