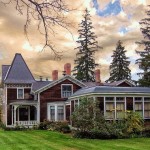 Buying a new home is a big undertaking and comes with a lot of new challenges. Most new homeowners make at least a few mistakes with their first home. Avoid these three most common mistakes and start your new life off right.
Renovating and buying furniture too fast
It's hard to resist the urge to make your home perfect as soon as possible. You want to make it truly yours by redoing the kitchen cabinets and filling that formal dining room or extra bedroom with the furniture it needs. But be intentionally slow and careful about spending money on the new house.
The first reason to wait is that you probably just emptied the majority of your savings account to cover the down payment and closing costs. Give your bank accounts time to recover. Getting some furniture isn't worth putting yourself at risk financially. The other big reason to hold off on large purchases and renovations right away is that you'll save money by taking advantage of deals as they come along. Make a budget for what you want done in the house and what you still need to buy. Keep an eye out for sales and start asking around for contractor recommendations. Taking it slow and steady will allow you time to find great deals and avoid buyer's remorse.
Flying by the seat of your pants on home maintenance
It's no secret that homes require a lot of upkeep. The key to staying on top of it is to get organized and make a plan. Even if that means putting "repaint exterior" on your calendar for three years from now, trust us; it'll save you some major headaches.
There are plenty of great home maintenance checklists and resources online that'll help you plan out the annual or biannual tasks. But for the long-term items, you'll have to do the legwork yourself. When was the last time the previous owners re-roofed? How long is it expected to last? Do the planning now, complete with a budget so you can start saving. You'll thank yourself when you can afford to replace the roof on time, avoiding the hassles and additional costs associated with water damage.  
Treating insurance like it's optional
Don't mess around with insurance. Just don't. New homeowners tend to underestimate the importance of having a solid insurance policy. First of all, go with a reputable insurance company for your homeowners insurance. A little extra money each month will seem well worth it when you're facing a burst pipe and a big hole in your kitchen ceiling. If you decide you want to make a change in your insurance provider, double-check the policy to avoid early cancellation penalties.
Many first-time buyers forget to send in their first insurance payments on time only to find the insurance company dropped them the second the payment was late. It leaves them facing the fact that they're already in violation of the mortgage agreement. You can avoid a lot of hassle by getting in front of your payments. Send them early and set up automatic payments if possible. And though this should go without saying, we're going to say it anyway: Never, ever go uninsured, even for a short period of time. It's simply a terrible idea.
Buying a new home is exciting and you should definitely celebrate. But after the champagne is gone and your housewarming party guests have left, you should carve out some time to sit down and plan out the next few years. Keeping ahead of payments, renovations, and repairs will make all the difference in your long-term success as a homeowner.
What mistakes did you make with your first home? What advice do you wish you would've had when you were a new homeowner? Tell us on Facebook or Twitter! And if you've not yet found your new home, get in touch with us today. We have branches all over the country!