Mortgage interest rates have been dropping for the past four weeks.
They began to rise in May, and they continued rising, quite a bit, until leaping above the 4 percent threshold eight weeks ago in June. With the economy recovering and housing markets stabilizing, many analysts expected that trend to continue with rates continuing to climb above 4.5 and even 5 percent. But they didn't. Four weeks ago, interest rates began their decline, and before they rise again, you need to lock in these low rates. Here are three big reasons why.
1. You can have more home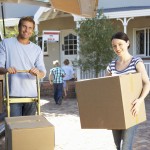 As The Mortgage Reports pointed out, today's low rates mean buyers can secure a mortgage for a higher priced home. At the start of last year, if a homebuyer could afford a $400,000 property, now the same buyer can look for homes in the $444,000 price range. It's a 10 percent increase, which can benefit everyone.
For first-time homebuyers, this increase means they can buy a larger starter home, maybe three bedrooms instead of just two. For current homeowners who are looking to sell and buy a home with more square footage or amenities, the current low rates could translate into a second floor, a guest house, or even a pool. Whatever your needs, lower mortgage rates mean you can afford more home.
2. There's less competition
Mortgage rates and the housing market have a complicated relationship. Sometimes it makes sense: When rates increase, mortgage applications and home sales drop. Sometimes, like right now, it doesn't.
Despite the decrease in interest rates over the past few weeks, homebuying demand has declined. Fewer buyers are on the market, which means buying a home now doesn't just give you low mortgage rates; it gives you an edge in finding and bidding on a home. If more buyers catch on and realize how much they can save, and how much larger of a home they can afford, housing demand may go up, and housing prices with it. That supply-demand relationship tends to be simpler, so with the homebuying competition lower, buying now is a smart move.
3. They're set to rise, a lot
Rates can rise fast. Tomorrow, next week, or in a month they could climb above 4 percent again — or higher, depending on market conditions and an array of other factors. Predictions aren't a science, and there's no way to definitively tell when mortgage rates will rise, but it's guaranteed they will rise at some point, and you should buy a home or refinance before they do.
In the early 2000s, rates hovered around 8 percent; in the late '80s mortgage rates hit the double digits. Those historical facts shouldn't terrify you, but they should make you realize the current low rates are more the exception than the rule. Waiting a month to secure a mortgage could cost you 0.25 percent in your rate, which translates to about $43.57 per month on a $300,000 30-year loan. Waiting a year could cost you a full point or higher, so lock in these low rates today.

At First Option, we're here to help, whatever your mortgage needs. Contact us today to learn more about refinancing or getting preapproved, or give us a call at 888-644-1999.
Tags: home mortgage, house hunting, housing market statistics, mortgage interest rates, Real Estate, refinancing