Say goodbye to 2018 and hello to the new year! As we enter 2019,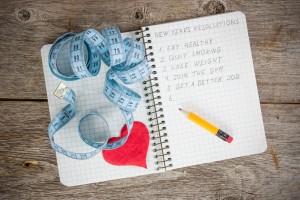 many people are starting to think about their New Year's resolutions. Resolutions are a great way to better yourself and try to achieve goals that you have always wanted to. However, one of the tough parts about setting New Year's resolutions is making sure you follow through. Don't set and forget your resolutions this year. Here are a few tips to make sure you stick with your goal.
Set Realistic Goals
It's easy to say "I will lose weight," or "I will save money this year." A resolution without a plan is merely a hope. Setting timely goals for yourself will give you something to work towards within a certain amount of time. "I will lose weight this year" could just as easily be "I will lose 5 pounds by February 15th" and "I will save money" can become "I will put aside 20% of each paycheck". Starting small and setting attainable results will help you ease into the process and help you achieve those goals!
Track Your Progress
With those goals in mind, be sure you are frequently checking in and tracking your progress. During the halfway point of your goal, check in. Are you on track? Are you falling behind a bit? If you aren't making the progress you should be to hit your next set goal, you will need to either refocus or make some changes to assure you maintain your resolutions.
Be Patient
Know that it will take time and effort to achieve your New Year's resolutions. Experts say it takes around 21 days to make habit of something new, and a whole six months for it to become part of your personality. Understand that this won't all happen overnight, so it's important to stay persistent and patient.
Reward Your Achievements
When you accomplish the goals you set for yourself, celebrate your success with something you enjoy that won't contradict the resolution. If you've hit your weight-loss goals over the last two months, you can reward yourself with a new pair of running shoes. If you've started a garden, cook some of the fruits of your labor for a dinner with friends. Keeping your New Year's resolutions should be a celebration—as they're happening, not just at the end of the year!
If you're currently planning to purchase, refinance, or learn more about mortgage rates, simply fill out our Fast Response form. Our experienced mortgage professionals would love to sit down and discuss your needs. We look forward to hearing from you!