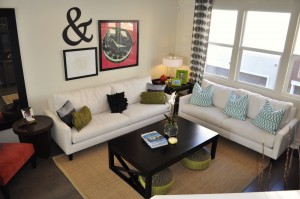 Every year produces its own design trends: some lovely, some not-so-much. Quite a few of those that emerged in 2013 will seem as dated as shag carpet in just a few months, but others will be around for years, maybe decades. Knowing what's timeless and what's passé is critical for anyone who wants to maintain a home that looks current. As you prepare to decorate your new home or spruce up your current one, we've assembled some of the 2013 home design trends that will still look great in 2014, and beyond.
Animal Accents
Animals rose to decorating prominence in 2013, appearing as bookends, candle holders, and even large porcelain side tables. The reasoning was rather simple: animals bring a light-heartedness to a room, instilling a sense of vitality in spaces that can seem cold. Of course, animals have been used as decor for centuries, but no longer are interior designers constrained to zebra prints for a mod room or ceramic roosters for a farmhouse. Everything from alligators to French Bulldogs is lauded these days.
Chevron
From bags to jewelry to rugs, the zig-zag chevron design exploded in 2013, and it's not going anywhere anytime soon. Wide, narrow, curvy, or colorful, chevron conforms to any decorating style—from chic modern to bohemian. Because it can pop or use subtlety, it's a great accent for any room.
Blue
Fashion designers and interior decorators both worked hard in 2013 to bring blue back to prominence, and it worked. The cool color has become popular in every hue, and it's predicted to outlast any other color trend of the year. Rather than paint a full room the color of a peacock, decorators recommend using small pieces—paintings or trinkets, to add a dash of blue to a room.
Vintage
First appearing a few years ago, vintage took over the decorating scene in 2013 and established its place for years to come. Antiques, inherited furniture, and old mementos found at estate sales have all been used to bring a more soulful ambience to a home. Loaded with history and characterized by chipped paint or muted dents, vintage pieces can wonderfully complement newer couches and bookshelves. They're less easy to find, because no furniture store carries them, but when you stumble across a table or old sign that would work in your home, snatch it up. It'll keep looking good for years to come.
If you're interested in purchasing, refinancing, or learning more about mortgage rates, simply fill out our Fast Response form. Our experienced mortgage professionals would love to sit down and discuss your needs. We look forward to hearing from you!
Tags: 2013 Housing Trends, Everyday Living