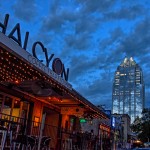 Millennials are finally starting to buy their first houses, which is a big deal since they're about to become
the largest living generation
in the U.S. And where they choose to settle down will affect the housing market for many years to come. As we look ahead to 2016,
the markets to watch
aren't the big cities, or the suburbs.
Out of the city
Millennials are known for being urban dwellers. But that's probably more a result of their as-of-yet young age than some generational sticking point. It makes sense that twenty-somethings would prefer to live in a loud, bustling city. But as this young demographic gets older and starts families, they're actually moving out of the big cities.
Why? Because houses in large cities are too expensive for millennials. They're dealing with more student loan debt and a later start in their careers than previous generations, so getting a great deal on their first home is important to them.
Does that mean they're headed for the suburbs? Some are, yes. But suburbs lack at least one essential that the typical millennial refuses to give up: a short commute. Fewer millennials drive than any other generation, and even the ones who own cars don't want to have to drive every day. They want to live, work, and play without leaving their neighborhoods. The suburbs — with their reputation for being car-centric — don't exactly hold a lot of appeal, and the lack of a nightlife doesn't help either.  
So what's a millennial to do?
The best of both worlds
Instead of moving to the suburbs the way their parents and grandparents did, millennials are moving into what have recently been dubbed 18-hour cities — like Atlanta, Denver, Austin, and Minneapolis.
They're called that because they're busier than sleepy suburbs but don't have the 'round-the-clock activity that larger urban areas do. Businesses don't stay open all night and public transit isn't running 24/7. That's a compromise many millennials are willing to make, especially since most of these cities have a lot of character and robust cultural attractions.
Where it was once believed that millennials would have to choose between the amenities of a city and the affordability and space of the suburbs, they've managed to find a third option that fits all their needs. 18-hour cities are the ones to watch in 2016 and beyond as millennials buy their first homes and settle down.
And if you're looking for a new home in an up-and-coming city, you're in luck! We have branches all over the country — contact us today to get in touch in any of the hottest 18-hour cities. You can also find us on Twitter and Facebook.