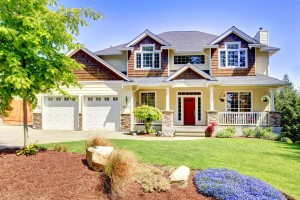 If you
own your home
, it's probably the biggest contributor to your net worth. Increasing the value of your home is nearly always in your best interest, but a homeowner needs to pick and choose between the many improvement options available. Here are ten home improvement projects that increase the value of your home, make it more livable, and provide good ROI for your time and money.
1. Install a new front door
Installing a new steel front door yields great results, especially if you do it yourself. According to HouseLogic, taking care of that front door on your own yields the best DIY ROI of any household project. Your door is a major part of your home's first impression. Make it a good one!
2. Add in hardwood floors
Buyers will immediately notice hardwood floors. Gleaming planks of wood heighten the atmosphere of living rooms, dining rooms, and bedrooms. On top of that, hardwood floors are generally easier to maintain than wall-to-wall carpeting. Carpets can accumulate dust, stains, and other unsavory elements within their threads. Wood floors, however, can be cleaned quickly and easily.
3. Add in a new bathroom
Along with how many bedrooms your home has, the total number of bathrooms is going to be one of the first things agents or buyers ask about. Adding even a single small bathroom is a major upgrade that will make your home more livable. If you have available space above or below an existing bathroom, you can install a new bathroom more quickly and cheaply than you otherwise could by tapping into the existing plumbing system.
4. Build a deck or a patio
Backyards are wonderful on their own, but a deck or patio makes them even better. Adding a deck or patio is almost like adding another room to your home. Suddenly your backyard will have space for tables, chairs, a grill, and more. A deck or patio can turn your outdoor space into a living and dining area, one that will impress your friends, relatives, and potential buyers.
5. Replace your home's siding
Your home could be palatial and wonderful on the inside, but if it doesn't look good from the street your total value will suffer. Exterior upgrades are important and, like installing a new steel front door, vinyl siding pays off big. While it can be expensive, replacing your home's exterior could yield an ROI of over 70 percent.
6. Paint your home
One of the best ways to increase your home's value is also one of the simplest. A new coat of paint can take your home from looking average or worn to looking new and desirable. Like a new door and siding, new exterior paint can increase curb appeal and new interior paint can make your home that much more livable. Plus, putting in new paint is a great opportunity to remove lead from your home, if older paint is still lingering somewhere.
7. Upgrade your kitchen
Your kitchen is one of the most important rooms in your home. It's where people gather, where you'll spend many an evening (and morning, and afternoon), and can very much be the heart of your home. Adding improvements like a kitchen island, stainless steel fixtures, and a hanging rack for pots and pans will give your kitchen character and life, plus it makes a great impression on assessors or potential buyers.
8. Beautify that lawn
A new lawn is another amazing exterior upgrade. Surrounding your home with landscaping that flatters its design will transform your home from a single structure to a larger piece of property. When you do upgrade your landscape, though, make sure that it's something that new owners can manage. New trees, shrubs, and other features that can take care of themselves will entice buyers. However, a garden that needs to be rigorously maintained and requires a lot of time might put them off.
9. Make your home energy efficient
Sustainability leads to savings. Adding in LED lights or solar panels can help you save money on energy in the long run. Depending on the climate of your region, it's even possible to sell power back to the grid with your solar panels. Probably one of the biggest things you can do to make your home more energy efficient is to insulate your attic. Attic insulation pays off big and it will keep your home more comfortable and livable regardless of the season.
10. Get your home inspected
Having your home inspected by a professional can reveal small issues — such as cracks or leaks — that could potentially grow to become larger, more time consuming and expensive problems. An inspection might not be as glamorous as putting in shining hardwood or a striking new door, but it can help your home maintain value in the long run.
How have you increased the value of your home? Share your story with us on Twitter and Facebook. And if you're hoping to sell your home after fixing it up, get in touch with us anytime.
Tags: Everyday Living, landscaping, Real Estate