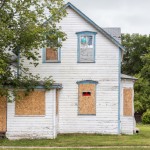 Buying a home can be stressful. Suburban, urban, or rural? House or condo? New or in need of some elbow grease? While we've already covered the pros and cons of buying a single-family house versus a condo, we also wanted to take a look at the pros and cons of buying a house requiring repairs.
Pros of buying a fixer-upper
It's an opportunity to save money. The costs of fixing up an older house certainly tend to be less than the costs of buying a new one.
Renovating a kitchen or a bathroom can add value to your home, especially if you purchased it below its market price.
You get a clean slate. When you buy a fixer-upper, you're not exactly buying your dream home, but you have the chance to turn it into your personal oasis!
You might be able to buy cheap in an otherwise pricey neighborhood.
Taking on a project of this size with your significant other can help strengthen your relationship as you work and make decisions together.
You don't have to do all of the work yourself. If you're not particularly handy in one area of home renovation (i.e., plumbing or roofing), you have the option of hiring someone to do the work for you.
And that means quality control. From beginning to end, you get to choose the contractors, building materials, colors … everything.
If the seller hasn't received many offers, you have more negotiating power.
You'll pay less for your own renovations than you would for someone else's, since sellers usually look to profit off their own.
You'll earn the satisfaction of working toward something that you can be proud of and call your own.
Cons of buying a fixer-upper 
You might go over your initial budget or timeframe. Expect the unexpected.
You often won't know what's wrong with the house until you look inside the walls. These are called invisible repairs. For example, if the entire house needs to be rewired to accommodate modern appliance standards, you'll be stuck with the bill.
If something happens — like you lose your job or incur serious medical bills — you could find yourself upside down in your initial investment and stuck with an unfinished home.
Renovations can put a strain on your relationship. Between having to juggle big decisions and spending all of your time working on the project, you may find that you have less fun, relaxation time to spend with each other.
Unless you make other living arrangements, you'll be living in a construction zone.
You may not be allowed to do renovations that increase the home's value much beyond your neighbors' houses.
If the seller has already listed the house under its market value, he or she may not be willing to move on the price, and you may find yourself in a bidding war with other prospective buyers.
If the house needs too many repairs, it may be difficult to get an appraisal. If that happens, you may find yourself renegotiating with the seller.
Unless you've secured a home renovation loan, you'll need to have cash in-hand.
It's time-consuming. Very time-consuming.
You have a lot to consider when deciding whether to buy a fixer-upper. Most importantly, you want to think about the time and financial commitment. But the decision to put in the effort now could pay dividends.
Have more questions? We're here to help. Contact us today!