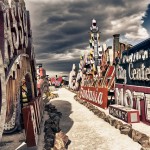 Las Vegas is known for its flashy casinos, eclectic crowds, and Las Vegas Boulevard, more commonly known as the Strip. It's where bachelorette parties and tourists flock to let their inhibitions run wild. While it's definitely iconic and something for everyone to scratch off the bucket list, the novelty can wear off fairly quickly. But not too far from the buzz of the Strip, you'll find plenty of activities that the whole family can enjoy. Dive into our list of these 10 family-friendly Las Vegas attractions and enjoy the other delights that the city has to offer.
If you fancy yourself a pinball wizard, head to Tropicana Avenue. The Pinball Hall of Fame is a shrine to the classic game. There, you'll not only be able to admire the collection of over 200 unique pinball games, but you can play them too!
Just 20 miles east of the city in nearby Henderson lies a refuge of rest and relaxation. The resort-style town offers wine tasting, boutique shopping, golfing, live music, and a host of food-related events. When you're ready to hit the water, you can yacht across the man-made lake while you work on that tan and forget about all the money you lost in the casino.
Near the airport, you'll find Town Square. The shopping and entertainment district offers plenty of things for adults to do, but caters equally to kids. They'll want to spend hours in the children's park, where they'll enjoy the treehouse, pop-jet fountain, hedge maze, and train rides on the Cactus Coaster. And just in time for Halloween, Town Square is hosting its annual "Town Scary," with plenty of Halloween activities and trick-or-treating.
When it's time to get away from the hustle and bustle, take a stroll through the beautiful and luscious botanical gardens of Springs Preserve. Don't miss their gardening workshops, live shows, exhibits, and an impressive butterfly habitat. They also host a farmers market on Thursdays.
Downtown yet still off the bustling Strip is a taste of Vegas's seedy past. Make your way through the menagerie of made men and wiseguys, and check out the interactive exhibits, artifacts, and juicy bits of history.
The Red Rock Canyon National Conservation Area is just a short drive west of Vegas, and well worth your time. Trade the neon buildings for beautiful rock formations and a 13-mile scenic drive, 30 miles of hiking trails, mountain biking, horseback riding, rock climbing, and camping. You'll also be able to enjoy a host of events that highlight the area's wildlife.
Nestled in Red Rock Canyon is an oasis of tranquility. Bonnie Springs Ranch is a place where kids can get a feel for the Wild West. They're sure to get a kick out of the petting zoo, pony rides, and realistic gunfights. Check into the Old West motel to extend the fun!
The historic and world-renowned Hoover Dam is another one for the bucket list. About 35 miles east of Las Vegas, the dam boasts impressive views and a heart-stopping drop. Along with the Golden Gate Bridge and Sydney Opera House, it's one of the Top 10 Construction Achievements of the 20th Century.
The Neon Museum is "dedicated to collecting, preserving, studying and exhibiting iconic Las Vegas signs for educational, historic, arts and cultural enrichment." The centerpiece of the museum, called the Neon Boneyard, is an impressive labyrinth of light. Be sure to take advantage of the guided tours, too. And if you just can't get enough neon, the space is available for special events, photo shoots, and weddings.
On the first Friday of every month, Vegas locals get together for an evening of well-mannered frivolity. First Friday is a veritable sea of artists, musicians, and foodies, and provides a different perspective on everything Las Vegas has to offer.
Whether you're visiting or planning on settling in the area, think outside the box and venture off-Strip for some family fun! To learn about more of our favorite haunts, contact our Las Vegas branch today.