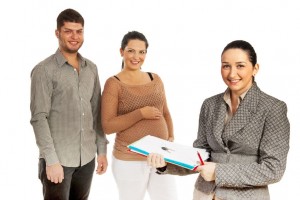 If you're preparing to buy a home or wanting to sell yours, you've had to consider this question: Should I use a realtor? A lot of home buyers and sellers on the market prefer to go at it alone, wary of the fees and cuts realtors charge. In theory, sellers especially can make more money on their home by selling themselves, but the truth is, a realtor can save both time and money. If you're on the fence about whether or not to use a realtor, consider these three benefits.
1. Insider Information
Homeowners who sell their home themselves can pay to list on various sites and publications, but realtors have access to these and quite a few more. Instead of handling all of the marketing yourself, your realtor, skilled in the task, will be able to optimize your photos, listing, and ad placements. If you're buying, rather than navigating thousands of real estate listings, your realtor will weed through the majority of them and can show you only the homes meeting your specifications and in your price range. Realtors often learn about new homes on the market before anyone else, which can give you an edge on the competition.
2. Skilled Negotiation
Though it's true realtors will extract a percentage or flat fee from a successful sale, they're also adept at making the most for you. They know market values well, and they can spot a good, reasonable offer, both of which are essential during closing negotiations. If you're feeling pressured to sell quickly, you may leap at the first attractive offer that comes your way, but a realtor will know whether or not to wait for something better.
3. Faster Closing
Statistics have revealed time and time again that realtors expedite the selling process. Because so many home buyers use realtors, many will overlook any for-sale-by-owner home. These houses can sit on the market for months, which usually necessitates dropping your asking price substantially. If that happens, you'll lose all of the money you would've saved on realtor costs—while still having to do the marketing, showing, and closing negotiations yourself! Working with a realtor almost guarantees a faster closing, and often at a better price than you could've gotten on your own. First Option has many experienced real estate partners in the markets we service. We can refer a pre-screened realtor partner who is intimately familiar with your community and will be able to assist with your home buying or selling experience.
If you're currently planning to purchase, refinance, or learn more about mortgage rates, simply fill out our Fast Response form. Our experienced mortgage professionals would love to sit down and discuss your needs. We look forward to hearing from you!
Tags: Everyday Living, first time home buyer, house hunting, housing market statistics, Selling Your Home